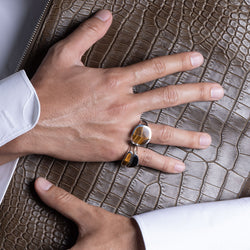 Men's Look 011 "EQUINOX" Pyramid Ring
Please enjoy free FedEx international priority shipping with custom taxes covered for orders over $350. For orders under US$350, flat-rate shipping fee US$50 will apply.
Shipping Area 
Americas: United States, Canada
Europe: United Kingdom, Germany, Italy, Spain, Switzerland, Luxembourg, Netherlands, Sweden, Finland, Ireland, Poland, Denmark, Turkey

Asia: Hong Kong, Taiwan, Korea, Singapore, Malaysia, Thailand, Indonesia, Sri Lanka, Vietnam, Philippines

Oceania: Australia, New Zealand

Middle East: United Arab Emirates, Kuwait, Lebanon, Qatar  
Estimated shipping Time
In stock: Once your order is confirmed, we will dispatch your order within 5 business days. We will keep you updated with tracking information. Delivery within 3 to 7 days. Latest Corona Virus (COVID-19) Information
Made to order: You can still purchase it in this state, be sure to note the estimated shipping date on each product page. If you're ordering multiple pieces and the status and shipping date of each are different, your orders will ship as they all become available. 
For more information, please check Orders & Shipping or contact us.
All sales are final, we do not accept returns or exchanges, except if the item is in a flawed or damaged condition.
If you receive a faulty item(s), please email us at global@hiro-taka.com directly within 3 days of the package delivery date with clear pictures of the defective part.  Returns that do not comply with following policy will not be accepted:
Items must be returned unworn, undamaged unused and unaltered, in the same condition it arrived in.
Items must be in the original branded packaging, and placed inside a protective outer box for shipping.
Items were purchased directly from hiro-taka.com with the receipt or proof of purchase.
We reserve the right to deny any request for return, exchange, or repair.
Ring Resizing
Unfortunately, we do not offer the service internationally. We are happy to help you. Please contact us.
For more information, please check Returns & Exchanges or contact us.